WEEL Electrical
At Whelan Electrical Engineering, we stand behind our work and guarantee that with us working on your project, you will be receiving a quality of work that is second to none.
A Whelan Electrical Engineering Project Manager oversees every project to ensure that we meet the level of quality that is associated with our organisation and expected by our clients.
Our management team has kept the company focused on our core values, which are, to provide the highest level of quality and service, and to build upon our strongest asset, our employees.
At Whelan Electrical Engineering we take pride in our work at every level. With our experienced management team overseeing your project, you can rest assured that all of your requirements will be met in an efficient and timely manner.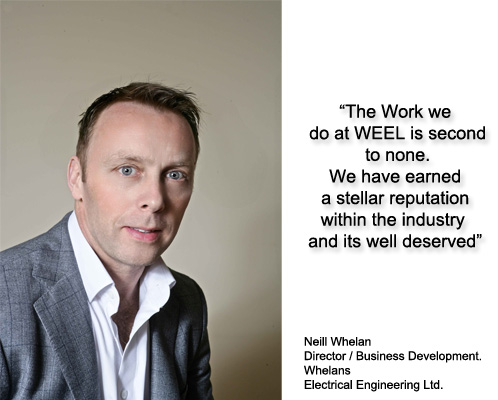 Neil Whelan: Director / Business Development Manager.
Areas of Expertise: Process Improvement: Business Relations: Electrical design: Project Cost Evaluation: Analysis: Project Planning & Development.
Neil founded the company in 1998 and throughout the years has been involved in most of the company's projects. One of Neil's strong attributes is his ground-level knowledge of the electrical industry and how it has changed over the years. With a flexible but strong attitude towards business he understands clients needs and how to get the job done.
Neil`s role demands he keeps in touch with clients on a regular basis, and develops a key business relationship so he can understand ever-changing client requirements. Neil's responsibilities include the overall management of the business and securing new contracts.
Whelan Electrical Engineering Ltd, Dublin.
Company Personnel & Essential Company Information